Caparol Arabia Awarded Frost & Sullivan's 2020 New Product Innovation Award for CapaCare Protect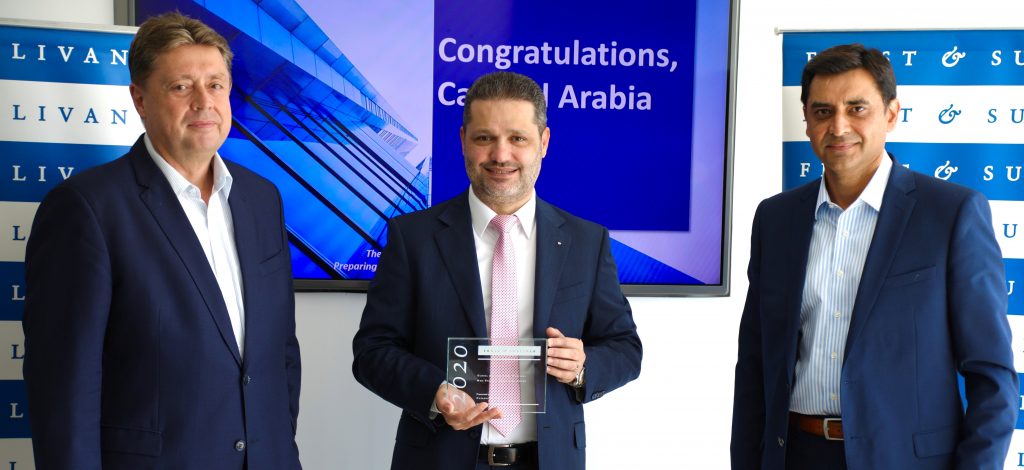 Dubai, UAE – 8th March 2021: Caparol Arabia, the Middle East's leading German paint manufacturer, has won the Frost & Sullivan 2020 New Product Innovation Award for its CapaCare Protect and its strong overall performance.
Caparol Arabia successfully launched CapaCare Protect across the Middle East in April 2020, during the early stages of the COVID-19 pandemic, to demonstrate its use in the fight against the Coronavirus. CapaCare Protect can kill 99.9% of the Human Coronavirus and H1N1 influenza. The solution was tested per American and Japanese standards in two independent ISO 17025 laboratories, approved and accredited by the International Antimicrobial Council in the United States.
Based on Frost & Sullivan analysis, Caparol Arabia's superior technology and products, which have been upgraded many times over the years, remain highly regarded among customers worldwide for their enhanced value and durability. Caparol Arabia has met the criterion of New Product Attributes, which delve into the product's reliability, quality, and design, in addition to other criteria.
Martin Rosocha, Managing Director at Caparol Arabia said that "Caparol Arabia has been heavily investing in developing advanced technologies and products to match the changing industry requirements and emerging needs in various regional markets. The fact that our product has been recognized globally by Frost & Sullivan is a testimony to our commitment to support the region with innovative, eco-friendly and sustainable solutions for a healthier living"
 Mowaffaq Balish, Commercial Director at Caparol Arabia added: "We have seen CapaCare product influence many commercial and residential projects to shift towards sustainable and green economy. Through our commitment to digitizing our operations, we plan to offer CapaCare Protect beyond the region in the future to allow faster and superior services for customers."
Furthermore, CapaCare Protect was selected based on Customer Impact, which evaluated Price/Performance Value, Customer Purchase Experience, Customer Ownership Experience, Customer Service Experience, and Brand Equity.
"Amid the widespread transmission of SARS-CoV-2, the company prioritized making this product available for the healthcare sector. Since then, CapaCare Protect has been used in various hospitals, schools, commercial facilities, and residential buildings in the region. Caparol's superior technology and products, which have been upgraded many times over the years, remain highly regarded among customers worldwide for their enhanced value and durability", said Christeena Thomas, Senior Industry Analyst at Frost & Sullivan