Atlantis, The Palm Brings Back The Biggest Underwater Yoga Class In Dubai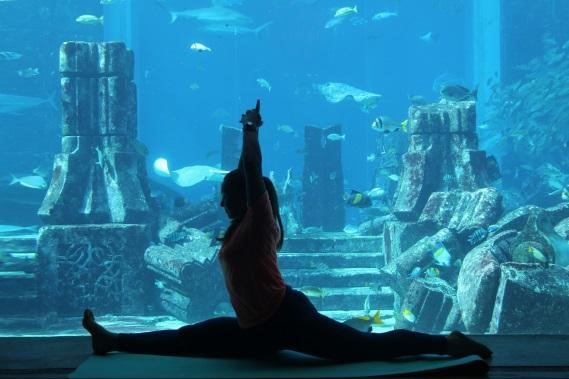 DUBAI – Due to high demand, the biggest underwater yoga class in Dubai is back on Tuesday 22nd August 2017 in front of the resort's Ambassador Lagoon from 7:30am-8:30am for 145 AED per person.
Set to be the biggest and only underwater yoga class in Dubai, the morning will aim to deliver a completely unique experience for beginners, intermediate and advanced yoga practitioners, set against the mesmerising tranquility of the Ambassador Lagoon, the biggest aquarium in the Middle East and Africa.
Surrounded by a majestic 65,000 sea creatures, guests to the special class will have the opportunity to rejuvenate and restore in a unique aquatic surrounding practicing Hatha Yoga, a discipline that helps bring peace to the mind and body. The class is open to all different levels* and aims to improve strength, flexibility and balance, involving beautiful, calming sequence of postures, breathing exercises and relaxation of body tension.
A study released by researchers from the National Marine Aquarium, Plymouth University and the University of Exeter has shown that contemplating fish in an aquarium has an effect in reducing levels of stress and anxiety and provides health benefits including lowering blood pressure.
The class includes complimentary access to The Lost Chambers Aquarium, a yoga mat, towels, a bottle of water and a refreshing smoothie. Due to high demand, booking is essential. For more information or to reserve a space visit https://www.atlantisthepalm.com/marine-water-park/lost-chambers-aquarium or call 04 426 2000. The class will continue in The Lost Chambers Aquarium every Tuesday and Friday for 120AED per guest.
* The class is open to those 16+ years of age
** Access to The Lost Chambers Aquarium will be from 8:30am-10am on the day of the class only and will be granted to those taking part in the yoga class