Abu Dhabi Economic Department Confiscates 9,148 Counterfeit Products in Q2 2019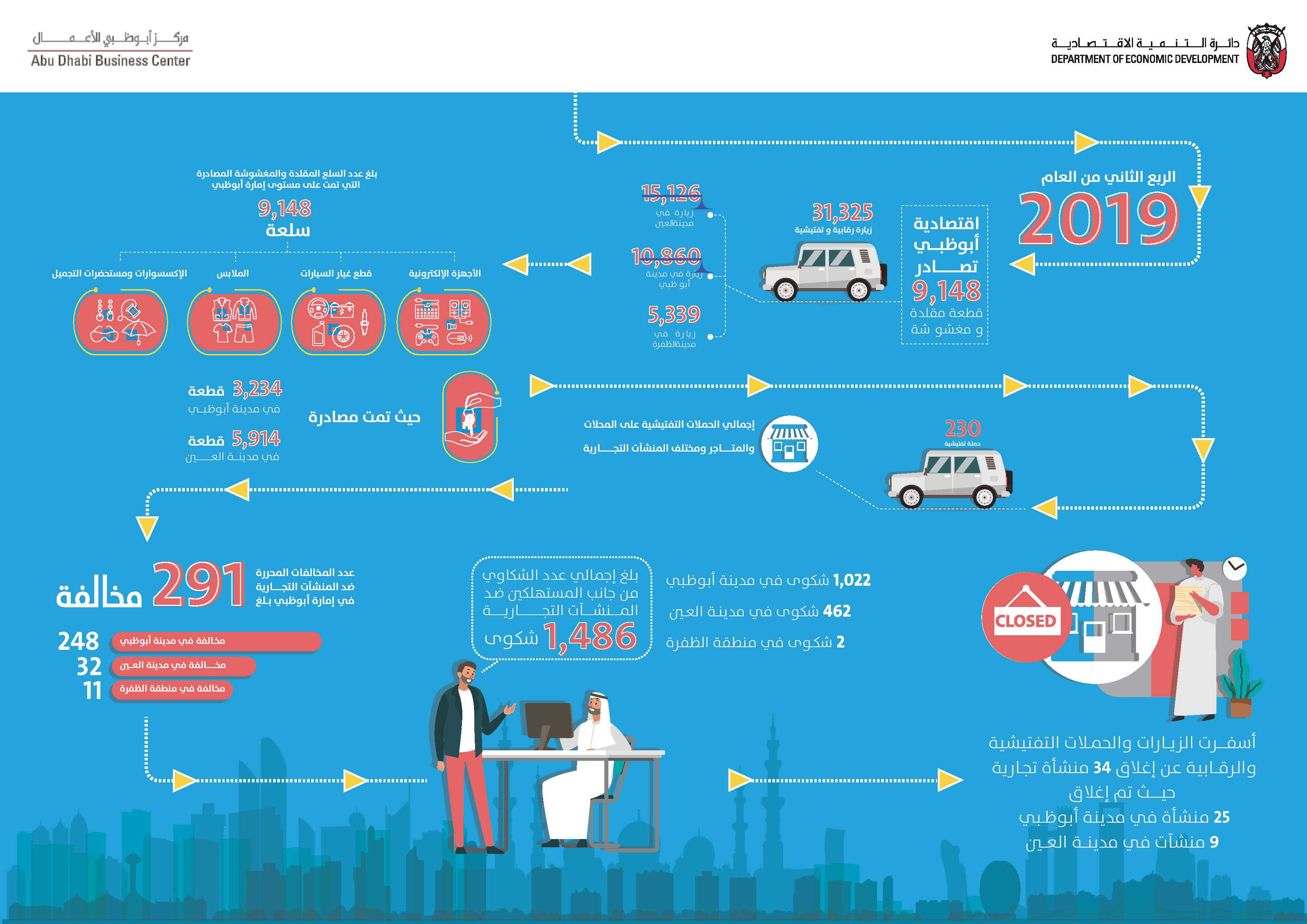 Abu Dhabi: The Abu Dhabi Department of Economic Development (ADDED) confiscated a total of 9,148 counterfeit products from a total of 31,325 inspection and supervisory visits conducted by the department on commercial establishments and outlets located within the emirate's three cities during the second quarter (Q2) of this year.
The second-quarter report of the commercial activity was released by the ADDED's Commercial Protection Division, as part of its mission to stop illegal business practices and protect consumer rights as well as intellectual property rights. The division conducted 15,126 inspection and supervisory visits in Abu Dhabi city; 10,860 in Al Ain city; and 5,339 in Al Dhafra region.
H.E. Rashed Abdul Karim Al Balooshi, Undersecretary of ADDED, said that the department is doubling its efforts to protect consumers by monitoring the compliance of commercial establishments in the capital to existing regulations and laws. By doing so, it is helping improve Abu Dhabi's business climate and ensuring that companies operate in a competitive and sustainable environment.
According to the report, the seized counterfeit products comprised auto spare parts, electronic devices, clothing, accessories, and cosmetics. A total of 3,234 items were confiscated in Abu Dhabi city and 5,914 in Al Ain city. The number of sequestered goods during the second quarter of 2019 went down compared to 9,294 counterfeit and adulterated products seized during the same period last year.
The decline indicates that ADDED's efforts to fight to trade of fake items are yielding positive results and that the department remains committed to preserving the rights of trademark owners and protect consumers from fraud.
Further, the report pointed out that during the covered period, the ADDED carried out 230 inspections on shops and other commercial establishments, 99 of which are in Abu Dhabi city; 92 in Al Ain city; and 39 in Al Dhafra region.
The number of offences has decreased to 291 from 1,457 of the same quarter last year. A total of 248 offences were registered in Abu Dhabi city; 32 in Al Ain city; and 11 in Al Dhafra region.
H.E. Al Balooshi noted that there was nearly 400 per cent decline in the number of offences during the second quarter of 2019 compared to the same period last year. He said that the department will continue to combat commercial fraud in a bid to establish an attractive business environment in Abu Dhabi. He reaffirmed ADDED's commitment to further raise the level of consumer and business protection in Abu Dhabi to build a competitive business environment in the local market.
During the second quarter of this year, the department received 1,486 consumer complaints against commercial establishments. A total of 1,022 complaints were made in Abu Dhabi city; 462 in Al Ain city; and two in Al Dhafra region.
In addition, the department issued 972 warnings to violators during the period. A total of 499 warnings were issued in Abu Dhabi city; 429 in Al Ain city; and 44 in Al Dhafra region.
H.E. Mohammed Munif Al Mansouri, Executive Director of Abu Dhabi Business Center of ADDED, said that, as a result of the campaign against counterfeit products, the department closed 34 commercial establishments for operating without a license, 25 of which were based in Abu Dhabi city and nine in Al Ain city. He explained that the closure is in accordance with the existing commercial laws in the emirate and urged all commercial establishments to comply with relevant laws, regulations, and requirements for the legal exercise of business activities.
Al Mansouri commented: "Through our inspections and supervisory visits, we are able to protect the rights of consumers and trademark owners. This is part of our mandate to prevent fraud and commercial manipulations to stop the repercussions of the illegal activities on the local economy and the business environment."
"We will continuously strive to make Abu Dhabi and its business sector transparent and credible by urging them to follow the laws and regulations concerning business and commercial activities. We call on all of them to abide by the laws and the requirements set for conducting business in the emirate," he added.
He concluded: "Conducting site visits is part of our relentless efforts to enhance the emirate's competitiveness at the local, regional and global levels, as well as push forward the process of building a competitive knowledge economy to help accelerate the Abu Dhabi Government's vision of economic growth and diversification."