Sheikh Sultan Opens Sharjah International Book Fair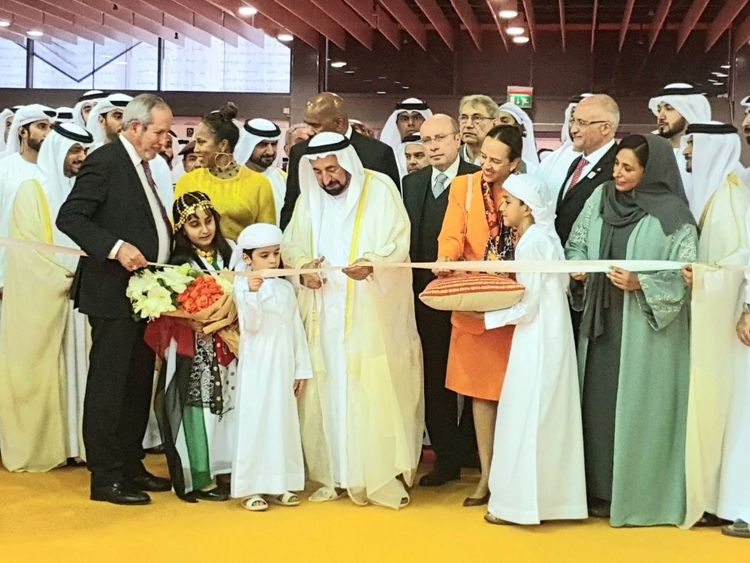 SHARJAH:  Opening the 38th Sharjah International Book Fair (SIBF), His Highness Sheikh Dr Sultan bin Muhammad Al Qasimi, Member of the Supreme Council and Ruler of Sharjah, said: "Culture leads us into the future and protects us from ignorance. If you want to know about the culture of a city or nation, ask about the status its children and the elderly enjoy."
"Forty years ago, Sharjah was not what you see today. No one foresaw the tremendous cultural achievements which Sharjah has attained. We began with a clear vision of where we were headed, and had the determination to get there. Culture is cultivated through patience. as I have learnt personally," he said, adding that the aspirations of Sharjah could never be fulfilled without the power of books and learning.
His Highness   emphasised on the importance of freedom of expression in the growth and prosperity of a nation.
He commented on the emirate's groundbreaking achievement of being named the "World Book Capital 2019" by explaining how there were many specific criteria that had to be met before the title was granted by the UNESCO.
Ahmad Al Ameri, Chairman of Sharjah Book Authority, which organises SIBF, said national progress – even international relations – is impossible without investing in culture. To this end, he added, SIBF has become one of the world's biggest book fairs and cultural events, hearing from local and international thought leaders and authors.
Highlighting the importance of the SIBF as a platform for the convergence of ideas, languages, stories, experiences and cultures from around the world, Al Ameri added: "I stand here today, amid 2,000 publishers from 81 countries, 173 authors, 90 cultural personalities and a packed 11-day agenda of 900-plus activities, which have brought arts and culture from across the globe under one roof.
Dr Sheikh Sultan also honoured winners of various literary and publishing awards, including the Dh1.3 million 'Tarjuman' or Translation award, won by Saudi translator Mohammad Hassan Alwan for translating a famous Italian book called Una Piccola Morte.
This year, Nobel Prize winner Orhan Pamuk, American TV host and actor Steve Harvey, Indian novelist Vikram Seth, Academy Award winning Bollywood lyricist Gulzar are among the star attractions.
Other big names include Steven James, author of the critically acclaimed Bowers Files and self help author Mark Manson.
Mexico is the Guest of Honour country at the festival. 10 publishers and authors from Mexico are taking part in the book fair, giving visitors a peek into the ancient cultures of the Aztecs and the Mayans.